Real Colegiata de Santa María La Mayor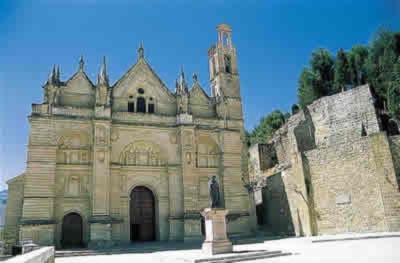 Read more
Read less
Constructed between 1514 and 1550 at the behest of the Bishop of Málaga, the royal collegiate church was the first Renaissance-style building to be erected in Andalucía. It is a wonderfully well-proportioned and very fine piece of architecture.
It contains late-Gothic elements alongside examples of pure Renaissance architecture, the highlight being its superb façade, without doubt the grandest in Antequera and built entirely with ashlar stone.
There are hardly any ornamental works or altarpieces to be found inside the church. This is because it is now used to host concerts and travelling exhibitions.
Tickets: 3 € Children between 7 and 16 years and retired people: 1,50 € Groups: 2 € Retired groups: 50% reduction
Monday to Sunday, 9am to 3pm.
Services and infrastructure
Accessible for handicapped
Historic building
Target audiences
Seniors, Professional, Lgbti, I travel alone, deal, Couples, For families, young people, Friends