Templo Romano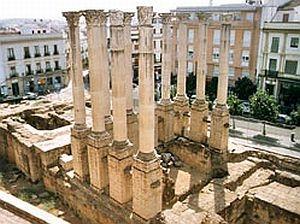 Read more
Read less
This first-century AD building is one of the best-preserved ones in the city from this era.
This is a prostyle temple, with six columns on the façade and a rectangular floor plan, elevated on a podium which is accessed by a flight of steps on the eastern side. Opposite the steps there is a large altar, also built on an artificial platform, next to which there are signs of another altar which has not yet been excavated. The walls are made of sandstone ashlars, and some of the columns were rebuilt in the early 1960s.
The monument covers an area of approximately 1340 square metres, with a protected zone of 11500 square metres.
Services and infrastructure
Target audiences
Seniors, Couples, For families, young people, Lgbti, Professional, Friends, I travel alone, deal
Specialties
Other Monuments or patrimonial Elements