Diving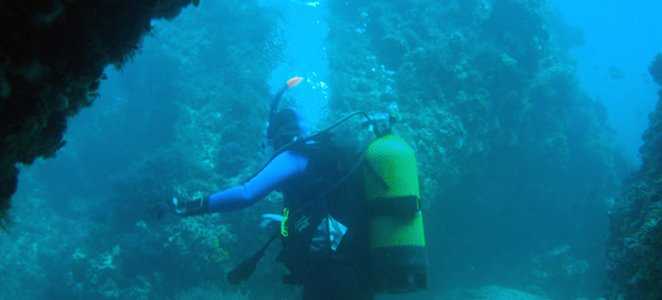 Diving is an exciting sport that is becoming more and more popular on account of the beauty and tranquillity to be found on the seabed.
This activity has been of interest to man since ancient times, and is now a highly popular leisure pursuit.
There are different ways to dive: free diving, snorkelling and scuba diving, which allows divers to reach greater depths.
Diving is recommended to combat stress, tension and to forget about your worries as you share amazing experiences with the plants and animals of the seabed.
Where to go diving
The Andalusian coast is ideal for diving. There are many companies and specialist centres that organise outings to the most beautiful, abundant areas of the Mediterranean and Atlantic coasts.
Estepona, Nerja, Tarifa, Almuñécar, Cabo de Gata... these are just a few of many sites where there are companies and organisations offering diving services and know-how.
Hundreds of stunning locations to go diving and discover the fascinating marine life.
Precautions and recommendations
Before starting to dive, you should have a medical check-up to ensure there are no problems that could be dangerous at depth.
We would also recommend you take advice from experts. Besides the technical aspects, they will also be able to inform you about the area to be visited.
Before getting into the water, remember to check all the equipment, and to plan your dive times appropriately. You should also never dive alone, especially if you are new to the dive site.
Necessary equipment
Equipment required for snorkelling comprises mask, snorkel, fins, swimming costume and accessories such as underwater camera and torch.
For scuba diving you will also need an air tank, regulator, pressure gauge, depth gauge and wetsuit.
General information
Perfect locations
Costa de Almería
,
Almería y su Entorno
,
Acantilados de Maro-Cerro Gordo
,
Costa de la Luz (Cádiz)
,
Axarquía/Costa del Sol Oriental
,
Campo de Gibraltar/Los Alcornocales
,
Costa de la Luz (Huelva)
,
Costa del Sol Occidental
,
Costa Tropical y Valle de Lecrín
,
Bahía de Cádiz
,
Del Estrecho
,
Cabo de Gata-Níjar
Further information
Otoño , Primavera , Verano