Frigiliana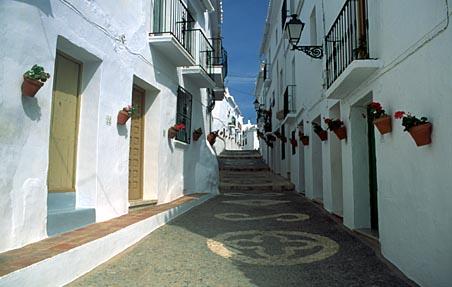 Read more
Read less
As is the case with many other villages, Frigiliana dates back to Roman times but owes its urban design to the Moslem occupation.
Perched like a balcony on the slopes of the Sierra Almijara, it offers one of the prettiest and most spectacular views of the Costa del Sol.
Apart from its beauty, the village boasts places of great interest, such as Las Hoces del Higueron, and buildings such as the sugar mill, formerly the Count of Frigiliana"s Palace, where the famous sugar cane honey is made.
History
The muncipal DISTANCE FROM the village, on the 976-metre high El Fuerte hill, stands a location known as Frigiliana la Vieja, (Old Frigiliana), where remains of Roman fortifications, dwellings and coins dating back to imperial times have been found.
However, it was not until Moslem times that the first real settlement appeared, with groups of houses being built and subsequently protected by an Arabic alcázar or fortress, thus providing the origins of the present-day village, which, by the 11th century, was known as Fixniana.
In May 1487, shortly after the fall of Velez Malaga into Christian hands, representatives of Frigiliana´s Moslem community paid homage to the Catholic Monarchs in an attempt to avoid reprisals and conserve some semblance of rights for the morisco (Moslem converts to Christianity) population.
In 1501, the Catholic Monarchs ceded Frigiliana´s territory to a trusted Jew, Maymonn Levi, in return for services rendered to the Crown. Later, in 1508, it was incorporated into the estate of a Castilian nobleman, don Iñigo Manrique de Lara.
Before long, the morisco rebellion which swept the whole of the Axarquia region, having originated in the Alpujarra region of Granada in the second half of the 16th century, was receiving strong support in the Frigiliana AREA: the difficult living conditions endured by inhabitants dominated by Christian troops created hostility which ended in open rebellion led by Martin Alguacil -a native of Competa- and Fernando El Darra. The moriscos established themselves at a castle in El Peñon de Frigiliana, El Fuerte, where they managed to repel the first battalions of the forces sent by the governor of Velez-Malaga, Arevalo de Zuarzo, in May 1569; it took reinforcements from Granada, supported by Don John of Austria, and over 2,400 rebel deaths to finally crush the uprising. The castle was razed the ground on the orders of the Commander of Castile, only ashes remaining.
By 1570, the expulsion process which banished the moriscos form the AREA was complete; their confiscated land was redistributed among Old Christians, primarily from Granada and Valencia.

Frigiliana
Municipio
The weather today in Frigiliana
Max

22

Min

20

Max

71

Min

68
°C
°F