Sierras de Tejeda, Almijara y Alhama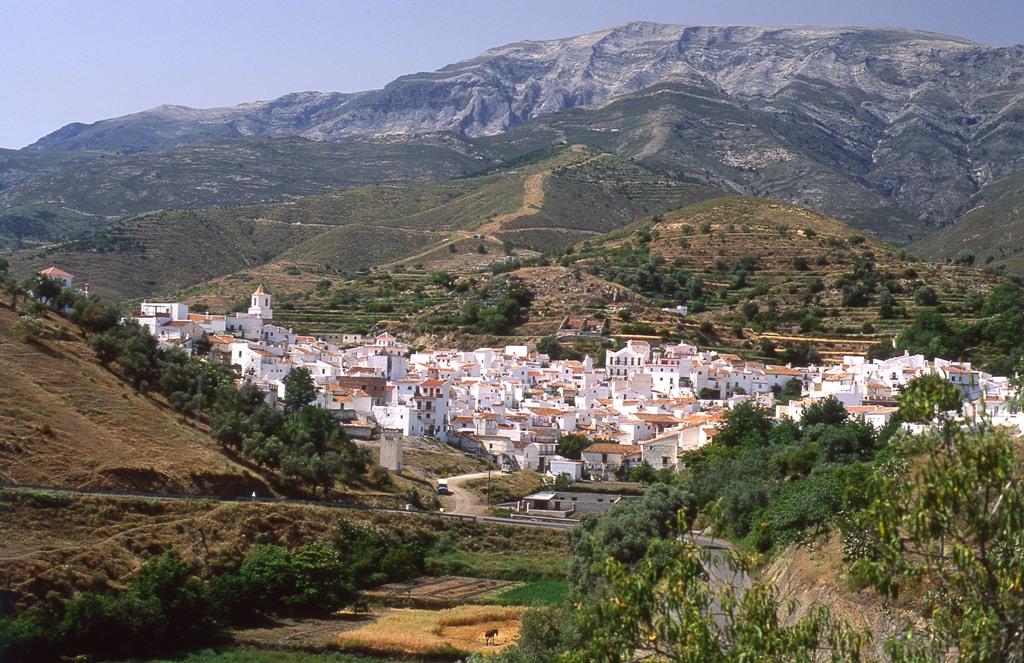 Read more
Read less
From the coast, the Sierras de Tejeda, Almijara and Alhama Mountains break up the horizon with a spectacular succession of peaks reaching more than 1,500 metres, with a vertical drop that disappears beneath the waters of the Mediterranean.
They are surrounded by amazing ravines, rugged crags, sharp ridges and steep slopes; it is not easy to climb the natural wall, although people have tried to lay trails which, having crossed the Frigiliana, Cómpeta or Sedella ports, fish was traditionally taken to the fish market in Granada.
On the limestone, the slow and consistent water has created a labyrinth of fissures, caverns and caves that have carved poljes, such as the Zafarraya, a spectacular depression surrounded by mountains; caves and potholes, including the famous Nerja and the Fájara Cave, and the spectacular "cahorros" or "canjorros", in the Chíllar River, a very narrow canyon carved out of the rock.
The intense economic use that these mountains underwent in the 19th century- mining, shepherding, coal merchants, wine production, etc. - and the subsequent reforestation of different varieties of pine to provide the Fornes raw material has conditioning the appearance of the forest. As we carry on up, to the high, damp and cold lands, there are remains of the original vegetation: in El Navazo and La Maroma, gall oaks and traditional oaks replace holm oaks, guelder rose and buckthorns, and higher up are the ashlar and yew shrublands, a plant that is rarely seen in the Andalusian mountains. There are also unique specimens, like the Pino de las Cinco Ramas (Five-Branch Pine Tree) (Sierra de Cazulas) or the Mimbreras of the headwaters of the River Cárdenas (Zafarraya). In the periphery, along with olive trees and vineyards, where the arid landscape begins to take over, prickly pear bushes, agaves and windmill palm trees begin to have an important role. There is a large presence of mammals, including mountain goat and genet, but many more birds, with mountain birds, such as the rocky-eagle, Bonelli's eagle, booted eagle, griffon vulture, Egyptian vulture and eagle owl, as well as river birds like dippers and kingfishers. While otter, common trout and crayfish certify the quality of the waters, horseshoe bats and Malacitana Petaloptila crickets highlight the uniqueness of the caves. You may also see Betic midwife toads, an exclusively endemic specicies of these mountains and the massifs between Almería and Murcia.
en
Read more
Coordinates not available
Services and infrastructure
Botanical Garden
Tourist Office
Target audiences
young people, Lgbti, I travel alone, Couples, For families, Seniors, Friends
Segments
Sun anda beach, Sports, Nature, Leisure and fun, Culture
Type of activity
Windsurfing, Climbing, Kayaking, Caving, Multi-adventure activities, Horse riding, Mountaineering, Canyoning, Orienteering, Sailing, Bungee jumping, Free Flying, Hiking, Biking, Off-road vehicles
Quality brands
ISO 14001:2004, European Charter for Sustainable Tourism
Environmental units
Media Montaña Bética mountain
Statement date
12 / 11 / 1999