Roman Theatre in Málaga (RTM)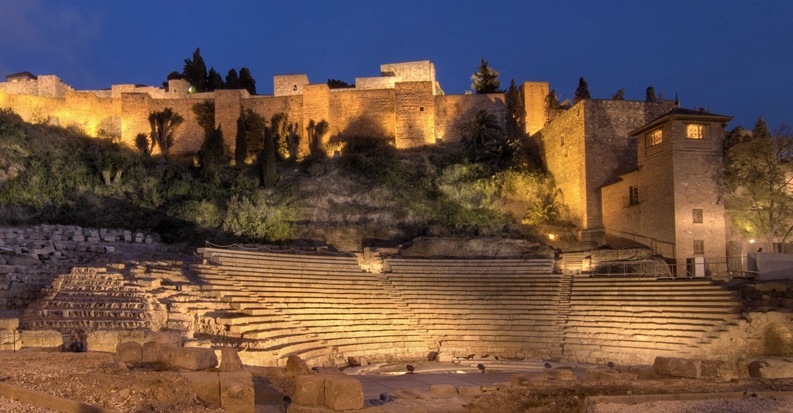 Read more
Read less
The Roman Theatre in Málaga (RTM) is located on the west slope of the Alcazaba hill. Built during the reign of Augustus, it was used until the 3rd century. It is a mixed construction, using part the slopes but there is also an artificial terrace stands support the stands. The size and characteristics is very similar to other theatres in the Baetica, very much on the lines of the classical model proposed by Vitrubio.
It was used as a cemetery in the 5th and 6th centuries and subsequently became a source of stone for restructuring the Alcazaba, where you can still find capitals and shafts of Roman columns.
After remaining hidden for centuries, the Roman Theatre in Málaga (RTM) was discovered in 1951. It has three parts: the cavea or stands, the orchestra pit or semicircular area between the stands and the stage and the proscenium or stage. The pulpitum is very well preserved, with the front bordered with niches containing remains of the original painting.
Comments: Closed: 1 and 6 January, 1 May, and 24, 25 and 31 December. Bookings are not required for the free tour.
If you wish to photograph or film spaces managed by the Regional Government of Andalusia, you must obtain permission in advance: https://juntadeandalucia.es/servicios/procedimientos/detalle/19073/datos-basicos.html Please contact us by email to find out opening times on other national, regional and/or local holidays. Advance booking is recommended for guided tours, either by calling 951 501 115 or sending an email to TRomanoMalaga.aaiicc@juntadeandalucia.es.
Tuesday to Saturday from 10 am. to 6 pm. Sunday and bank holidays from 10 am to 4 pm. Closed: Mondays and 1 and 6 January, 1 May, 24, 25 and 31 December.
Services and infrastructure
Specialties
Archaeological Site, Roman Theatre