Puerto de Sevilla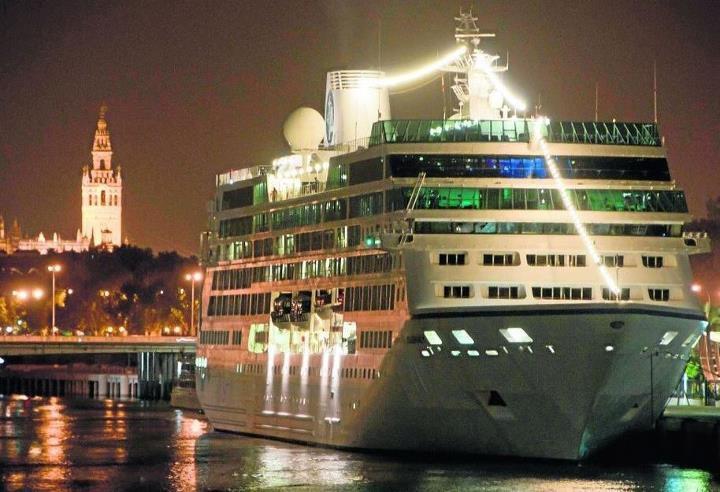 Read more
Read less
The Port of Seville is an inland seaport in the estuary of Guadalquivir River. Starting in Sanlúcar de Barrameda, a city with a coastline on the Atlantic ocean, the port facilities of Seville are reached after a 90-km long journey, accessing through the Seville lock, only one in Spain. The Guadalquivir River is navigated through the Eurovía E-60.02 Guadalquivir navigation canal, which is part of the European network of navigable routes.
Nowadays, Seville is a regular cruise ship stopover point and attractive method to travel to the city. A modern city which is constantly renewing its urban space, committed to large cultural and sports infrastructures, as well as many different and unique options for tourists.
Subway arrival
The Seville Underground covers four municipalities (Mairena del Aljarafe, San Juan de Aznalfarache, Seville and Dos Hermanas); it is 18 km long and has 22 stations with access for disabled persons.
Train arrival
RENFE : Seville is connected to the main Spanish cities through high-speed trains (AVE) and with conventional trains, with departures/arrivals from/to Santa Justa Train Station.
Car arrival
Access roads to Seville: * A-4 to the Airport, Córdoba (138 km.) * A-66 to Mérida, Badajoz (217 Km) * A-92 / N-334 to Málaga (219 km.) * A-4 / AP-4 to Cádiz (125 km.) * A-49 to Huelva (94 km.) Continue on SE-30/E-5/Ring Road SE-30, -> Port (Exit 9 - East Port)->Avenida de la Raza-> Arrival at Puerto Delicias.
Bus arrival
Seville has two bus stations that connect it every day with the towns in the province and with important cities in Spain and Europe: * Plaza de Armas Bus Station. It is connected with the following destinations through many companies: Madrid, South of Portugal, Lisbon, Huelva, Coast of Huelva, Barcelona, Valencia, Alicante, Mérida, villages in the province of Seville, Asturias, Galicia, North of Spain, countries abroad * Prado de San Sebastián Bus Station: Main destinations, connecting to: Villages of the province of Seville (Utrera, Morón, Estepa, Carmona, Alcalá de Guadaira, Écija), Córdoba, Granada, Cádiz, Jaén, Málaga, Almería, Jerez de la Frontera, Algeciras, Ronda, Marbella, etc. City bus - TUSSAM : Lines 3, 6 and 34 - Delicias Stop.
The Port of Seville is a stopover point for tourist cruise ships in transit and other tourist cruise ships with this city as their base port, allowing tourists to enjoy what Seville has to offer even more. River cruises Croisi Europe . Other services companies offering panoramic walks around the Dock and/or/o excursions to Sanlúcar de Barrameda: * Cruceros Torre del Oro * Llyates S.L.U * Electrip, Ecocruceros por el Guadalquivir, S.L . * Sun Sails Charter * Gresitania 2000: "Falcao I" * Francisco Chaves Coronilla: "Enseñanzas Náuticas"
Seville is one of the biggest European cities and one with the best communications in Spain, with the ideal city dimensions to blend tradition and modernity. Its infrastructures, roads and strategic location make it one of the main cities in southern Europe. The Port of Delicias is in a perfect location for cruise ship traffic. Some of its infrastructures on the old goods dock with the same name have been fully refurbished and are now a leisure complex, integrated with Mª Luisa Park, the biggest green space in the city, surrounded by architectural heritage of different periods, such as Torre del Oro and the pavilions of the 1929 Ibero-American Exhibition. The terminal-Port of Delicias offers different services: * Promenade * Restaurants * Boat services * Passenger assistance facilities Passenger and vehicle transport services are offered in Seville, Coria del Río and in Sanlúcar de Barrameda. San Pablo Airport is 12 km from Seville on the N-IV and 15 km from the Port of Delicias.
Services and infrastructure
Accessible for handicapped
Bar
Captaincy
Customs
Facilities for Disabled
Parking
Restaurant
Toilets