Trevélez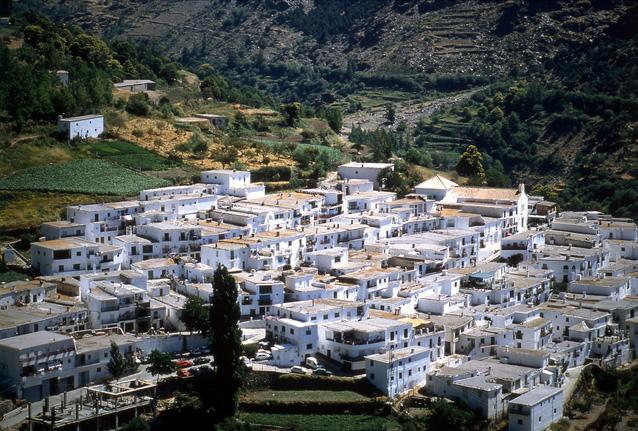 Read more
Read less
The municipality of Trevélez is located in the north face of the Natural Park of Sierra Nevada, at 1,476 m of altitude, is one of the highest villages in Spain. Situated on the slopes of the Mulhacén, it is well known for its ham cured in the cold, clean air of this area.
The three districts, high, medium and low, which make up the town, joined together in harmony down to the river Trevelez, whisper of crystal water filled with trout.
The eye of the traveler is limited to the white peaks of Sierra Nevada and the stunning cliffs, always painted green by the singular vegetation, an ideal place for hiking, and then rest in one of the bars of the village, enjoying also the essential feature that defines the image of Las Alpujarras: a unique architecture in their homes, perfectly adapted to the broken terrain and climate of the area, which are arranged in narrow streets where the memory lingers of the Moorish past.
History
The name of this village derives from Arab, quite common in Andalusian toponyms. Some authors identify it with the word bellis, as an Arab version of the word "valley"; others understand that vélez means "district", thus Trevélez would translate as "three districts".

Its origin remains a mystery, but it is known that it was a farmhouse area belonging to the Taha de Juviles.
After the Moors were expelled in the second half of the 16th century, it was repopulated with people from Andalusia, Castile and Galicia.

Trevélez
Municipio
The weather today in Trevélez
Max

18

Min

17

Max

64

Min

62
°C
°F