Úbeda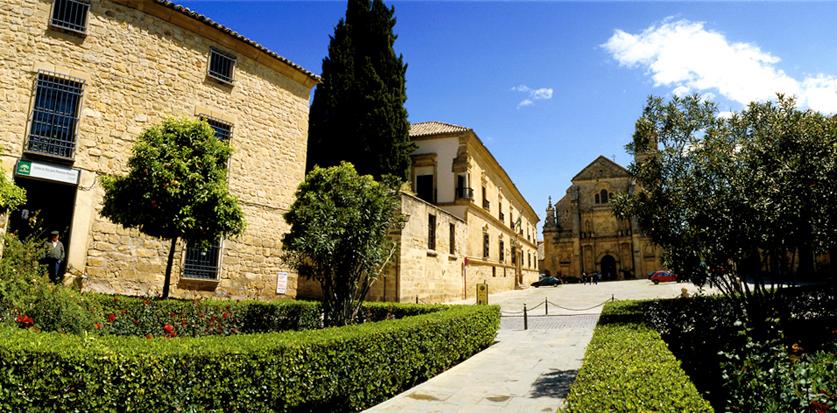 Read more
Read less
This important and populated city is situated on the hills of the same name, in the geographic centre of the province, in a landscape of olive trees and cereal fields.
Úbeda is undoubtedly an artistic and monumental city, and one of the most glorious and stately in Andalusia. Castillian and Renaissance through and through, it contains so many monuments, churches, palaces and noble houses that it is best to take a walk and let oneself be transported to the time of its historic splendour. The Chapel of El Salvador, situated in the incomparable Town Hall Square, the Church of San Pablo, the Church of Santa Marí­a de los Reales Alcázares, the Church of la Trinidad, the Oratory of San Juan de la Cruz, the Monastery of Santa Clara, the Palace of the Vela de los Cobos Family, the Palace of las Cadenas, the House of las Torres, the Hospital of Santiago, the Hospital of los Honorados Viejos del Salvador, the Clock Tower, the Murallas de la Cava (city walls), the Pottery Museum and the Parador Nacional de Turismo, are some of the marvels to be found in this surprising city.
As well as these delights, we suggest a walk along the walls to enjoy the splendid views and a visit to its potteries, specially, the Paco-Titos house-museum.
History
Numerous remains have been found from Roman times.
During the al-Andalus period, it was occupied by the Yamarí­ Arab tribe. The village was founded in the 9th century by Abd al-Rahman II and it was called Ubbadat. It became one of the most important cities in al-Andalus due to its handicrafts and trade. Its walls were built in 852. Kings Alfonso VI and Alfonso VII tried to conquer the village, with different degrees of success. It was conquered successively in the 11th and 12th centuries by Almoravids and Almohads.
King Fernando III finally reconquered the city in 1234.
The city took part in the siege of Algeciras in 1344 and some years later, it was set fire to and suffered the killings ordered by Muhamad V.
The many fights in Baeza led the Catholic Kings to order the walls and towers of the fortress to be destroyed in 1503.
During the 16th century, the figures of Juan Vázquez Molina and Francisco de los Cobos made the village participate in the government.
San Juan de la Cruz died in this city.
Ubeda has received the name of City of Andalusian Renaissance due to the quantity and quality of the monuments belonging to this artistic period, though it is also quite representative of the Plateresque style.

Eminent citizens
Manuel Latorre, Andrés Arias and Antonio M. Poveda, bullfighters.
Ramón Quesada, poligraph.
Eliseo Morales, photographer.
Antonio Muñoz Molina, writer.
Úbeda
Municipio
The weather today in Úbeda
Max

25

Min

16

Max

77

Min

60
°C
°F