Valverde del Camino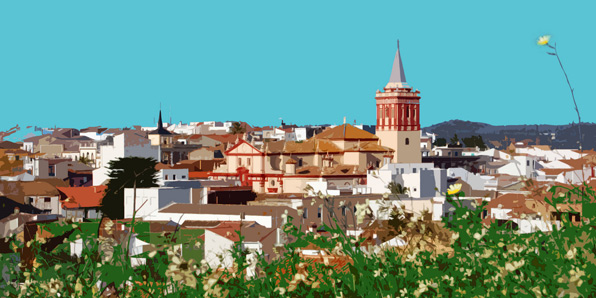 Read more
Read less
Village situated in Tierra Llana and belonging to the region of Andevalo. It is modern, industrial and guards its tradition of shoemaking, iron and copper work and liquor distilleries jealously.
Its main artistic testimonials are the Parish church of the Virgen del Reposo, Saint Ann's Chapel, Trinity Chapel and Saint's Chapel. Among the civil buildings is the Museo Casa Dirección, built by the English company Alkali as a residence for its General Manager.
To the south there is an area of ancient coniferous trees of extraordinary environmental value which has the necessary infrastructure to welcome tourists and visitors and where we can find the Chapel of Las Cuartas.
History
It can be seen from the remains discovered that the first human settlement dates from prehistoric times. A group of dolmens has also been found.

In Roman times, the mines were worked. This village was also on the road from Huelva to Extremadura. The population began to increase when a type of inn was opened here for travellers to rest at which was called Facainas.

During the Middle Ages it was intensely repopulated.

It belonged to the County of Niebla, until it received the title of "Villa" in the year 1731.

In the XIX century, foreigners arrived to work in the mines and craft and industrial activity increased.

By about 1930 the copper and manganese mines were being worked by the English.

Eminent citizens
Diego Angulo Iñiguez, historian.
Jose Nogales y Nogales, writer and journalist.
Domingo Delgado, painter.
Manolo Parreño, paraplegic painter.
Valverde del Camino
Municipio
The weather today in Valverde del Camino
Max

22

Min

15

Max

71

Min

59
°C
°F