Guadix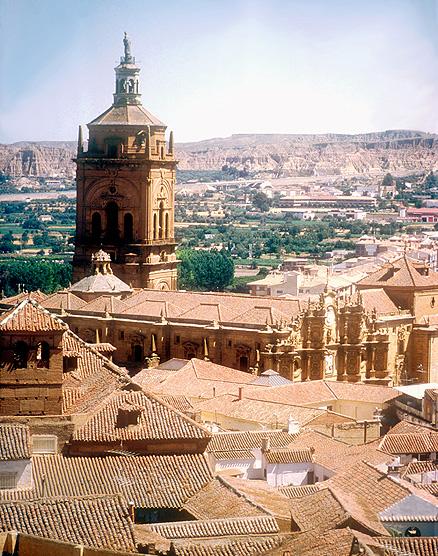 Read more
Read less
Guadix, a natural path between Levante and Andalusia, is one of the oldest human settlements in Spain.
The troglodyte habitat is certainly developed in Guadix and cave-dwellings characterize districts such as: Ermitas and Cuevas. It is worth mentioning the New Hermitage, where the cave of Father Poveda and the cave-museum of art and traditions depicting the local handicraft and industries can be found. Close to this part of town is the viewpoint of La Magdalena, from where spectacular views can be observed.
This monumental town preserves interesting historic-artistic heritage like the Alcazaba (Moorish castle), listed as a National Monument, displaying 11th century towers with magnificent views over the valley and Sierra Nevada.
Guadix contains religious architecture of great interest, such as the Cathedral and the Churches of Santa Ana, Santo Domingo and San Francisco.
History
It is one of the oldest human settlements in Spain.

Since the first Phoenician and Carthaginian incursions, it was named Acci, which would derive its present name, Wadi or Guad Acci.

It was an important Roman colony, called Julia Gemella Acci, and one of the first Christian dioceses in Spain.

Under Muslim rule, the city acquired the Arab urban layout, which still prevails in some streets. In the 11th and 12th centuries, Wadi Acci became together with Baza, one of the most flourishing taifas (small kingdoms) in Al-Andalus, which disappeared due to the fundamentalist Almohad movement.
It took part in the civil wars of Granada becoming court of King Zagal, who handed over this town to the Catholic Monarchs in 1489.

The famous writer Pedro Antonio de Alarcon was born in Guadix in 1833. Two of his works were related to this town: El Niño de la Bola and El Sombrero de Tres Picos.

Important characters
Aben Thofail, medical doctor and philosopher.
Pedro Antonio de Alarcón, writer.
Antonio Mira de Amescua, poet and playwright.
Ismael de la Serna, painter.

Guadix
Municipio
The weather today in Guadix
Max

20

Min

18

Max

68

Min

64
°C
°F
en
Read more
There are no results to show
What territory do you want to visit?