Hot air ballooning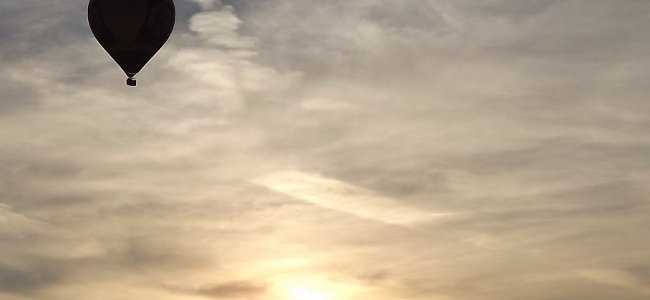 Hot air ballooning is the oldest form of human flight. It consists of aerial navigation using aerostats - apparatus that are lighter than air.
The best-known aerostat is the hot air balloon, which has been used from the very first flights through to the present day. All that has changed are the materials used and piloting techniques, thus improving the safety and comfort of this means of transport.
Balloon flight is highly recommended for its serene yet exciting nature. Aerostats fly only under the force of air currents. They have a base, normally a wicker basket, attached to a bag-shaped canvass made of fireproof fabric.
Since hot air ballooning began as a sport in the 1970s, it has been growing constantly, with more and more people wanting to live this incredible experience.
Where to go hot air ballooning
Due to growing demand, there are more and more leisure and adventure companies offering balloon flights as one of their services.
You can fly all over Andalusia. There is no age limit and you can get to altitudes of more than 1,000 metres.
It is one of many original ways to enjoy the stunning landscapes of the Region of Andalusia. With this adventure sport, Andalusia offers you a new, stunning perspective.
Precautions and recommendations
This is an outdoor sport, and furthermore it depends on air currents. Therefore you should have the relevant meteorological information to ensure a successful flight and avoid any unforeseen accidents.
You are also recommended to get information on the company to be used for the balloon flight, and to be sure that it meets the official safety requirements for this activity.
This activity is not, of course, recommend for people with vertigo or any other height-related illness.
Necessary equipment
The only requirement for ballooning is to wear comfortable clothing and footwear. These should be warm enough according to the time of year.
You could also take hat, sunglasses and sun cream.
General information
Ideal for
Amigos , Familiar , Jóvenes , Lgbti , Parejas , Viajo Solo
Perfect locations
Sierra de Baza
,
Los Pedroches
,
Antequera y Entorno
,
Pueblos Blancos/Sierra de Grazalema
,
Córdoba y la Zona del Guadalquivir
,
Costa del Sol Occidental
,
Sevilla y Entorno
,
El Aljarafe
,
Hoya de Guadix y Marquesado
,
Vía Verde de la Sierra
,
Valle del Guadalhorce
,
La Vega y la Campana
,
Jaén y Entorno
,
Serranía de Ronda/Valle del Genal
,
Sierra de Andújar
,
Los Alcornocales
,
Sierra de Hornachuelos
,
Del Estrecho
,
Sierra de Cardeña y Montoro
,
Sierra Mágina
,
Sierras Subbéticas
,
Sierras de Cazorla, Segura y las Villas
,
Sierra de las Nieves
,
Sierra Nevada
,
Doñana
Further information
Otoño , Primavera , Verano , Invierno