Acebuches de El Rocío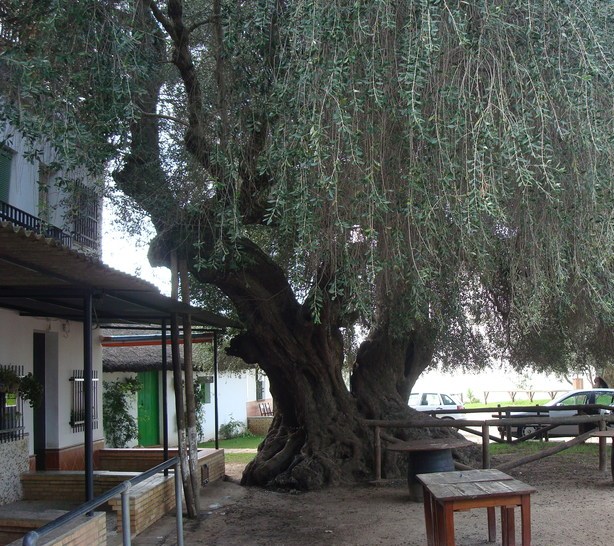 Read more
Read less
The Acebuches del Rocío Natural Monument is in the village of El Rocío, in the municipal district of Almonte, within the Doñana Nature Park. It is a large group of wild olive trees, most of which are hundreds of years old, set over an area known as "Plaza del Acebuchal" (Wild Olive Square).
The wild olive tree once formed part of the Mediterranean forest that covered this region, along with cork and carob trees. These trees are well adapted to high temperatures and periods of drought. The fruit of the tree is called "acebuchina", an olive with a large stone and little flesh. The culinary, medicinal and cosmetic properties of this fruit have been known since ancient times. In fact, over the course of history man crossed this species many times in search of a fleshier fruit, leading to the different olive varieties that we know today.
The importance of these wild olive trees is that are a remnant of autochthonous Mediterranean forest, and some of them are very, very old, as is the case of one known as "El Abuelo" (the Grandfather), thought to be the oldest living inhabitant of Doñana at more than 700 years.
Very close to this "square" is the marshland that the people of Almonte call "the Mother of the Marshes". This is the start of the Doñana National Park and, except for in summer when it is usually dry, it is an excellent place to watch the birds that inhabit this nature area. Your visit could finish with a stroll around the village of El Rocío and the entrance to its famous shrine.
Services and infrastructure
Target audiences
Lgbti, young people, Friends, For families, Couples, Seniors, I travel alone
Environmental units
The Atlantic coast of Andalusia
Statement date
23 / 11 / 2001