Greenway from the Sierra Norte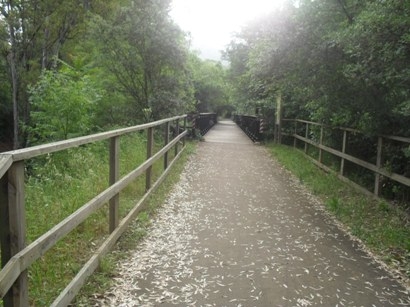 Read more
Read less
La Vía Verde de la Sierra Norte, the old railway branch that connected the Zafra-Seville line with the Cerro del Hierro lines, along which the mined minerals was transported, has now been renovated for all to enjoy It has a total of 19,44 kilometres of minimum difficulty, nestled in the Sierra Norte Nature Reserve in Seville.
Along half of the route, we will travel along the Rivera del Huéznarriver, along the banks of which grows one of the best riverbank forests in Andalusia. On its upper section are the Cascadas del Huéznar waterfalls, declared a Natural Monument. Alders, ash, willows, elms and honeysuckle, among other flora, dot the landscape.
Further away from the stream stands the Mediterranean forest with holm-oaks, cork trees and gall-oaks, near small splashes of chestnuts, replaced by olive groves and orchards in the area around San Nicolás del Puerto.
At the end of the route is another Natural Monument, the Cerro del Hierro iron hill, a stunning geological resource sculpted by the weather and mining. Used since Roman times it reached its height of splendour in the 19th century, when the Mining Village was built, following English architectural guidelines, and the landscapes that it left behind are amazing.
The route along this Vía Verde, through the districts of San Nicolás del Puerto, Constantina and Cazalla de la Sierra, has important natural and cultural values
Managing Body: Sierra Norte Nature Reserve in Seville. Type of surface: Mixed: paved with "slurry" treatment (landscape integration). Total length: 15 km of Vía Verde + 4 km of connection between the railway station and the Vía Verde. Accessibility: Suitable for walking, mountain biking and wheelchairs. Infrastructures: 1 tunnel, 2 metal walkways and 3 recreation areas. Download Brochure Cartographic information: Military map of Spain. Scale 1:50.000: Page 920.
en
Read more
Itineraries
Greenway from the Sierra Norte
Difficulty Very low
Length: 19.44km
Cycling percentage: 100.0%
Services and infrastructure
Accessible for handicapped
Facilities for Disabled
Tourist Office
Target audiences
Seniors, young people, For families, Friends, I travel alone, Lgbti, Couples
Specialties
"Vías verdes" (green-ways)
Season
Autumn, Summer, Winter, Spring