Los Molinos de Agua Green Way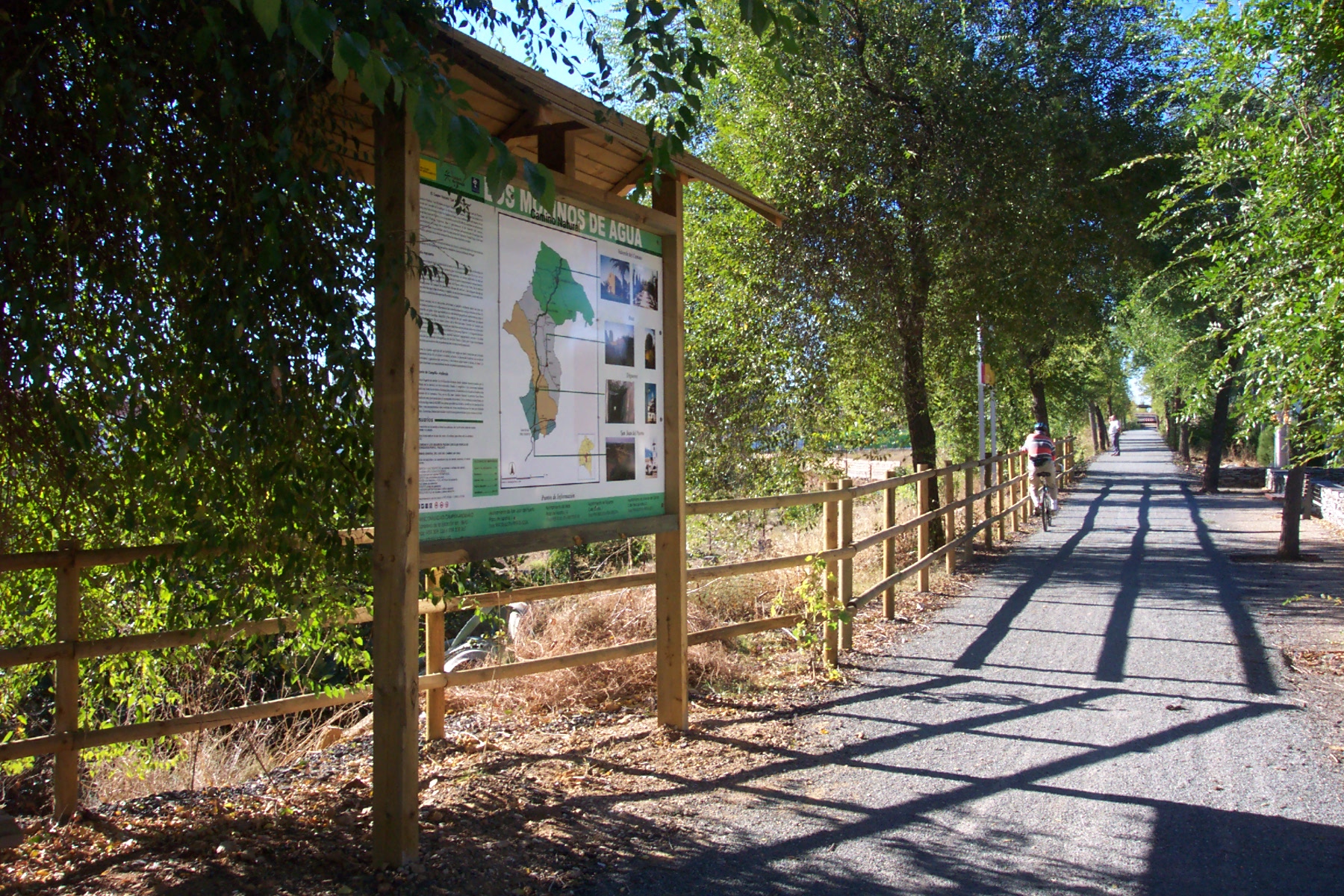 Read more
Read less
Through an old mining train, from the banks of the Tinti to the gorges of the Serranía de Huelva.
This valley, which crosses the province of Huelva, is the main backbone of the Campiña - Andévalo Tourist Destination.

The Vía Verde Los Molinos de Agua runs along the old El Buitrón mining company railway line and was the first mining railroad in the province of Huelva, being in operation between 1870 and 1969. This section of the route joined the Buitrón mines with the pier that the mining company owned in San Juan del Puerto, the starting point of the journey.
This Vía Verde has few slopes and is an accessible route for people with reduced mobility or motor disabilities, and also ideal for mountain bikers and hikers of all ages, providing contact and knowledge of its natural and rural surroundings, with a high ecological, landscape and cultural value.
It connects the towns of San Juan del Puerto and Valverde del Camino, passing through Trigueros and Beas. It is ideal for enjoying a great variety of landscapes, countrysides, pine forests, meadows dotted with cork and eucalyptus repopulations. It has slopes with easy access to urban areas from its old stations and stops, with informative notices about places of great heritage interest, both historic and ethnographic, from the Campiña - Andévalo federationarea.
Managing Body: Mancomunidad Campiña - Andévalo . Type of surface: Green Way with mixed surfaces: asphalt and compacted earth. Total length: 36.6 km. Accessibility: Suitable for walking, mountain bike, horseback and wheelchairs. Infrastructures: 2 bridges, 5 rest areas and 4 stations. Download Brochure: Cartographic information: Military map of Spain. Scale 1:50.000: Pages 938, 960, 982 and 1,000 Official road map. Ministry of Development.
en
Read more
Itineraries
Los Molinos de Agua Green Way - 1
Difficulty Low
Length: 36.6km
Cycling percentage: 100.0%
A San Juan del Puerto
B Trigueros
C Beas
D Valverde del Camino
Services and infrastructure
Accessible for handicapped
Tourist Office
Target audiences
young people, Couples, For families, Friends, Lgbti, Seniors, I travel alone
Specialties
"Vías verdes" (green-ways)
Season
Spring, Winter, Autumn, Summer