Ayuntamiento de Sevilla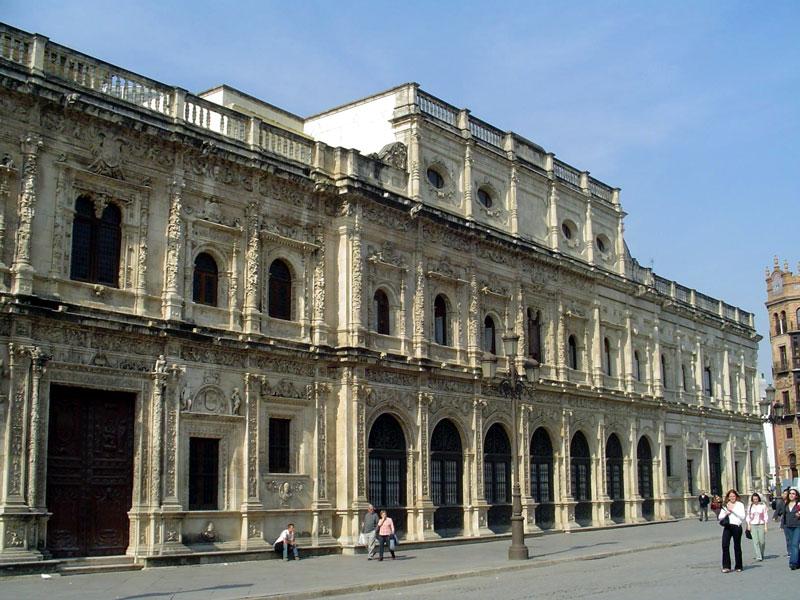 Read more
Read less
Built between the 16th and 19th centuries and listed as a Monument since 1931, the Ayuntamiento de Sevilla (Town Hall) is one of the most outstanding examples of Plateresque architecture.
Designed by Diego de Riaño, work began in 1526, and the City Council met in their new headquarters for the first time in 1556. The location chosen for the new building was Plaza San Francisco, a commercial district in the town centre, opposite the convent after which it was named and the Law Courts. Work was begun by Riaño, who was charged with constructing a stone, hard-wearing building with façades onto the "Plaza Mayor" opposite the former convent of San Francisco.
In the 19th century, after the demolition of San Francisco Convent, the building was renovated. This was undertaken by Demetrio de los Ríos and Balbino Marrón, with a new main façade in Neoclassical style facing the Plaza Nueva. The interior was simultaneously reorganized around two courtyards and a large staircase. The interior features important works of art like the main staircase and the chapter house, as well as an interesting collection of paintings. It houses the city's banner.
Advance booking on the website required: http://oberonsaas.com/alcazarsevilla/visitacasaconsitorial
Standard admission: 4€. Residents and those born in the city of Seville: free of charge. Over 65's: 2€.
Monday to Thursday, at 5pm and at 7.30pm. Saturday at 10am.
Services and infrastructure
Target audiences
For families, Couples, Seniors, I travel alone, Lgbti, young people, Friends
Specialties
Other Monuments or patrimonial Elements