White Water Rafting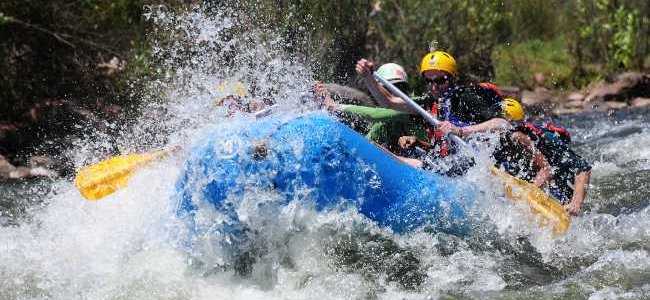 White water rafting is a recreational sport consisting of travelling downriver, using the current, in an inflatable raft.
One form of rafting is hydrospeed. This is practised individually on a type of float, called a hydrobob, which you control by moving your legs and the flippers on your feet.
The adrenaline rush felt on the way down is an exciting sensation that will free your tension and leave you feeling relaxed.
The rivers used for rafting have a designated a level of difficulty according to the speed of the current, the turbulence of the water, the existence and strength of whirlpools, the existence of rocks on the route…
In short, this is an exciting sport that enables you to enjoy a fun experience with nature.
Where you can practise it
Today, Andalusia has three rivers that are the scene of first-class rafting. The first, the River Genil, which starts in the snow-covered peaks of the Sierra Nevada and flows through the provinces of Granada, Malaga, Cordoba and Seville, offers different locations where you can enjoy this activity: Cuevas Bajas and Cuevas de San Marcos (Malaga), Benamejí (Cordoba) and Badolatosa (Seville).
Meanwhile, in the Province of Jaén, the Upper Guadalquivir area (in the Sierras de Cazorla, Segura y Las Villas Natural Park) is particularly notable. It is where one of the longest rivers in Spain begins and it offers a section with extremely beautiful natural surroundings.
Near the town of Órgiva is where the River Guadalfeo flows and where you will find the third great area for rafting, which is perfect during months of thaw. Here, the River Guadalfeo offers a setting of great scenic value, with stunning mountain views thanks to its location in the heart of Granada's Alpujarra region.
Precautions and recommendations
Firstly, we recommend you choose an established agency or school to ensure you are offered the necessary equipment and a safe route.
As this is an outdoor activity, weather conditions are fundamental to fully enjoying this activity safely.
Specialist agencies and centres know the characteristics of each area of river and their advice will avoid any unpleasant surprises.
Knowing how to swim is not absolutely vital but it is an important safety measure that may be of great help in an emergency.
Furthermore, to practise hydrospeed you must be in good physical condition.
Equipment required
The equipment generally used for white water rafting consists of an inflatable raft, oars, a life jacket, helmet and wetsuit or, if you do not have one of these, a swimsuit or comfortable clothing you don't mind getting wet.
To enjoy hydrospeed you will also need a hydrobob, in addition to flippers.
General information
Ideal for
Viajo Solo , Parejas , Lgbti , Jóvenes , Amigos
Perfect locations
Further information
Otoño , Primavera , Verano