Sierra de Huétor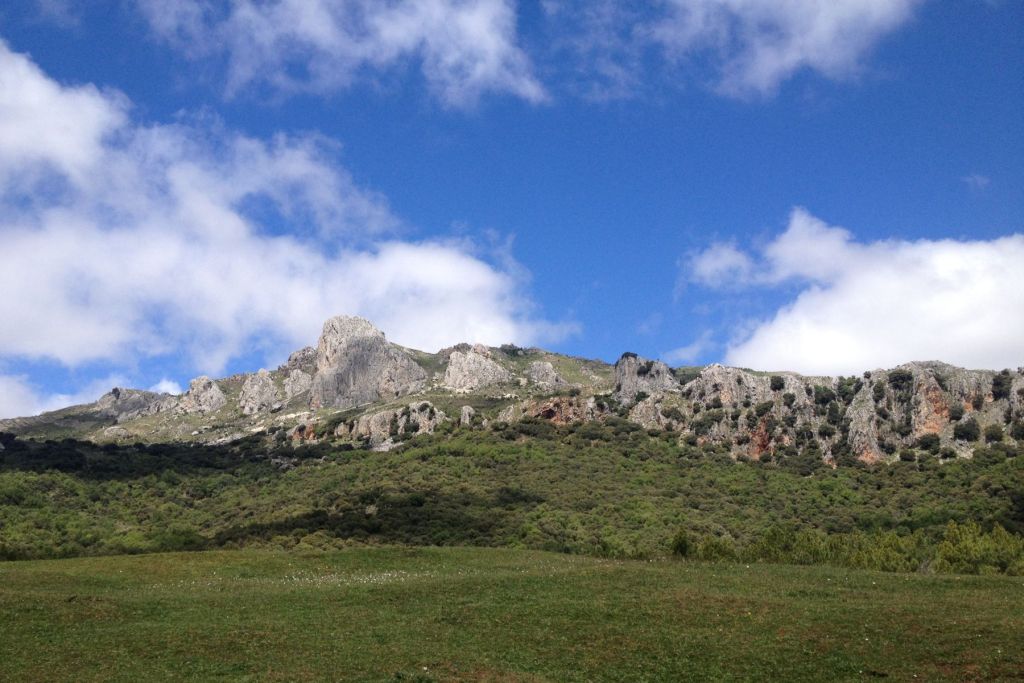 Read more
Read less
At Sierra de Huétor, between crags, gorges and rocky pinnacles, hidden waters drill caves and chasms, waiting the moment of rising up to find light again in the springs, that likewise quench the thirst of kings' or become part of good bread for its people.
Huétor is the sum of small mountains that, revealing itself as a balcony over the valley of Granada, extensively and proudly rise towards the northeast until running into Sierra Arana, a backdrop of the tallest peaks. Our territory is characterised by the presence on its surface of high crags, as Cimbra in the Alfacar Sierra, lapiaces, needles, teeth, sinkholes, and, further deep, a great number of grottos, caves and chasms: up to forty, as the Agua Caves in Nívar and the Gato Cave or the chasms of Víznar and Los Maderos. Water enters the heart of the mountains forming a large water deposit that runs into springs as famous as the Grande de Alfacar, Fuente Morqui, Grande de Huétor or the one at Los Porqueros.
Fauna and flora
Pine forests dominate here, like the cedar of the Atlas and fir, some listed unusual trees -the Cedars at Vivero de la Alfaguara and the fir forest of Barranco de la Umbría-. Beneath these pines a wide variety of mushrooms are home to other species, as red pine or cap mushrooms or summer boletales. Some patches of holm oaks that survived the coal merchants are visible - Solana de las Romera- that, where there is more humidity, like at Fuente Fría and El Llano de la Cuna, alternating with Pyrenean oak, scrubland and patches of lavender. These woods shelter a number of small birds, several birds of prey and one of Europe's largest coleoptera, the longhorn beetle. The peaks of Sierra Arana, which are home to padded species and broom (blue, pink and Erinacea anthyllis), camomile of the mountains and low juniper, are areas of great ecological value, with permanent channels -Fardes River- and clayey ones -Cerro del Calar Blanco-. The first is dominated by a forest of willows and ash, while the second hosts the greatest number of endemic species: thyme and dolomitic rosemary with presence of a unique jarilla (Helianthemum raynaudii). This is a land of birds of prey and animals adapted to the rocky surface, as mountain goats or golden eagles, but also a number of butterflies, native crab, common trout, dragonflies, damselflies… and a small snail only found in these villages and evidence of the quality of its waters: Boetersiella sturmi.
en
Read more
Coordinates not available
Services and infrastructure
Botanical Garden
Tourist Office
Target audiences
I travel alone, young people, Friends, Couples, Seniors, For families, Lgbti
Segments
Sports, Culture, Nature, Gastronomy, Leisure and fun
Type of activity
Kayaking, Canyoning, Water skiing, Caving, Bungee jumping, Hiking, Off-road vehicles, Multi-adventure activities, Biking, Climbing, Horse riding, Mountaineering
Quality brands
ISO 14001:2004
Environmental units
Media Montaña Bética mountain
Statement date
28 / 07 / 1989