Wine and Marco de Jerez Brandy Route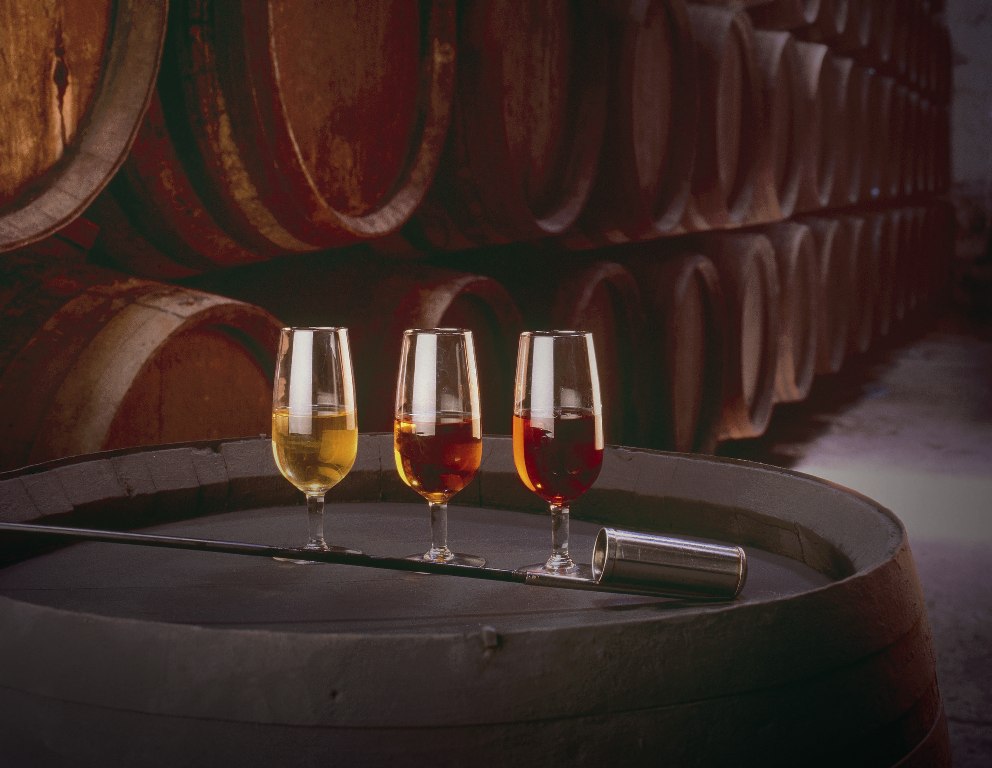 Read more
Read less
The Wine and Marco de Jerez Brandy Route is the birthplace of the most celebrated and international Spanish wines and brandies. A millenary winemaking culture that encloses an immense cultural heritage, the legacy of the many peoples who for centuries have left their mark that, together with the exceptional climate and beauty, make Jerez an internationally acclaimed tourist attraction.
The route passes through privileged surroundings, the geographical triangle formed by the towns Sanlúcar de Barrameda, El Puerto de Santa María and Jerez de la Frontera. From the clear "albariza" (a white, chalky soil) of its vineyards to the darkness and the mystery of its wine cellars; from the narrowness of its white streets to the magnitude of the ocean, travel along the unique wine and brandy making route in Jerez.
The landscape of Marco de Jerez is interspersed with the unique designs of the wine cellars where the production of regional wines and brandies occurs, following the ancestral practices that have been passed on from generation to generation. Known as Wine Cathedrals for their majesty, stillness, low lighting and unusual architectural structure, the wine cellars in Jerez are real sanctuaries in which worship is rendered to time.
The dynamic ageing system of "solera" and "criaderas" exclusive to Marco de Jerez where the youngest wines provide vigour to the more mature ones, giving rise to an exceptionally prolonged ageing process. That is why the wine cellars in Jerez possess wines that are among the oldest in the world, ageing more than 20 and 30 years. Grand jewels of oenology, guarded in dark and hidden places, and referred to as Sacristies.
en
Read more
Itineraries
Wine and Marco de Jerez Brandy Route - 1
A Rutasiete
B Spirit Sherry, Enoturismo
C Quesos El Bucarito
D Zoobotánico de Jerez
E Museo de la Sal del C.R.A. Salinas de Chiclana
F Bahía de Cádiz
G Parque Metropolitano Marisma de Los Toruños y Pinar de la Algaida
H Los Alcornocales
I Doñana
Wine and Marco de Jerez Brandy Route - 2
A Hotel Barceló Montecastillo Golf & Sport Resort
B Casa Rural Viña de Alcántara
C Hotel Doña Blanca
D Hotel Ibis Jerez de la Frontera
E Hotel Jerez & Spa
F Hotel Soho Boutique Jerez
G Hotel Cortijo de Ducha
H B&B La Fonda Barranco
Wine and Marco de Jerez Brandy Route - 3
A Hotel Guadalquivir
B Hotel Sherry Park
C Hotel Monasterio San Miguel
D Casa Rural Santa Petronila
E Hotel Puertobahía & Spa
F Hotel Duque de Nájera
Wine and Marco de Jerez Brandy Route - 4
A Chiclana de la Frontera
B Chipiona
C Puerto de Santa María, El
D Jerez de la Frontera
E Puerto Real
F Rota
G Sanlúcar de Barrameda
H Trebujena
Wine and Marco de Jerez Brandy Route - 5
A Bodegas Real Tesoro y Valdespino
B Bodegas Rey Fernando de Castilla
C Bodegas Sandeman
D Bodegas Tradición
E Bodega Williams & Humbert
F Bodega Santa Petronila
Wine and Marco de Jerez Brandy Route - 6
A Taberna der Guerrita
B Casa Bigote
C El Embarcadero
D El Faro del Puerto
E Gastrobar Badulaque
F Despacho de Vinos Las Palomas
G Mesón Lantero
H Las Bóvedas - Monasterio de San Miguel
I Romerijo
J Gourmet Cobos Catering
Wine and Marco de Jerez Brandy Route - 7
A Bodegas Álvaro Domecq
B Bodegas Cortijo de Jara
C Bodegas Díez Mérito
D Bodegas Fundador Pedro Domecq, Terry y Harveys
E Bodegas Grupo Garvey
F Bodega González Byass - Tío Pepe
G Bodegas Luis Pérez
H Bodegas Lustau
Wine and Marco de Jerez Brandy Route - 8
A Bodega Los Ángeles Yuste
B Bodegas Barbadillo
C Bodegas Delgado Zuleta
D Bodegas Herederos de Argüeso
E Bodegas Hidalgo La Gitana
F Bodegas La Cigarrera
G Bodegas Pedro Romero
Wine and Marco de Jerez Brandy Route - 9
A Calidad en boca
B La Casa del Jerez
C Taberna der Guerrita
D Museo de la Manzanilla - Bodegas Barbadillo
E Museos de la Atalaya
F Museo Arqueológico de Jerez
G Museo del Moscatel de Chipiona
Wine and Marco de Jerez Brandy Route - 10
A Bodegas Caballero
B Bodega Gutiérrez Colosía
C Bodega Juan C. Grant
D Bodegas Osborne El Puerto de Santa María
E Bodegas El Gato
F Bodegas Sanatorio
Wine and Marco de Jerez Brandy Route - 11
A La Carboná
B La Tasca
C Tabanco El Pasaje
D El Lagar - Barceló Montecastillo Golf & Sport Resort
E El Cartujano - Hotel Jerez & Spa
F Las Cuadras
G El Ábaco - Hotel Sherry Park
H La Cruz Blanca
I Tabanco Plateros
Wine and Marco de Jerez Brandy Route - 12
Wine and Marco de Jerez Brandy Route - 13
A Alcántara Ecuestre
B Bike and Wine
C Hammam Andalusí Baños Árabes
D Museo de la Miel y las Abejas
E SurWays Jerez de la Frontera
F Maridajerez
G Bull Watch Cádiz
H Gourmet Cobos Catering
I Turismo Rural Genatur
J Paladar y Tomar
Services and infrastructure
Target audiences
young people, For families, Seniors, Professional, deal, Couples, Lgbti, Friends, I travel alone
Segments
Culture, Leisure and fun, Gastronomy, Nature, Meetings and Congresses
Season
Spring, Autumn, Winter, Summer