Mountaineering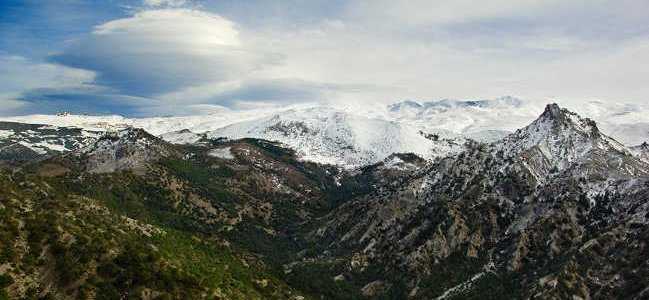 Climbing steep mountains is much more than a sport; for those who practise it, it is a way of life and of seeing the world in which we live. It can be addictive for those who want to reach the highest peaks, involving large doses of adrenaline, competition and challenge.
But this sport is not just about climbing mountains. There are 12 types of mountaineering, ranging from hiking to scaling the highest peaks. You will need certain equipment and materials to practise this sport, as well as a specific technique to overcome the difficulties of the terrain in safety.
Some types of mountaineering, such as scaling very high mountains, are regarded as dangerous sports; the dangers increase according to the conditions of the climate and terrain where they are practised.
Where to go mountaineering
Andalusia has a rich and varied physical geography. The mountains of Sierra Morena and the Betica Range offer stunning landscapes and excellent areas for mountaineering enthusiasts.
Besides the natural beauty spots, there are specific areas which intrepid mountaineers set themselves as targets.
This is true of peaks such as Mulhacén, 3,481 m, the highest peak on the Iberian Peninsula, and Veleta, 3,392 m. They are in the Sierra Nevada Mountains, where you will find a host of options for tourism and sport.
These mountains are very popular for mountain sports, but there are others such as Cazorla which are also ideal for climbing and other kinds of mountaineering.
Precautions and recommendations
One of the main requirements for mountaineering is prior knowledge of the area. You should also know the climatic and meteorological conditions. Forecasts could affect decisions regarding the climb, or might prevent you setting out at all.
You should let someone know about the route to be undertaken before departure, for your safety and to help any rescue procedures that might be necessary.
A good idea for beginners is to start practising indoors. Artificial climbing walls where you can try your skills, practise techniques and gain the necessary confidence before trying in the great outdoors.
Necessary equipment
Equipment is of course highly important for a successful climb.
Firstly you need a rucksack to carry all the equipment and materials you need. It should be strong, light and as comfortable as possible for each climb.
If you are going to practise the hardest forms of this sport, such as scaling the highest peaks, you must to have the necessary anchoring equipmentfor securing ropes, used both for ascent and descent: cams, karabiners and harnesses.
Suitable clothing may include a variety of shirts, gloves, glasses, helmets and trousers with large pockets, specifically designed for this activity.
Equipment should be completed by special footwear, with hard rubber soles for more support, traction and security.
General information
Ideal for
Amigos , Jóvenes , Lgbti , Parejas , Viajo Solo
Perfect locations
Sierra de Castril
,
Alpujarra Almeriense/Río Nacimiento
,
Antequera y Entorno
,
Sierra de Baza
,
Altiplano de Baza, Huescar y Castril
,
Axarquía/Costa del Sol Oriental
,
El Aljarafe
,
Costa del Sol Occidental
,
Hoya de Guadix y Marquesado
,
La Alpujarra
,
Pueblos Blancos/Sierra de Grazalema
,
Serranía de Ronda/Valle del Genal
,
Sierra Alhamilla
,
Valle del Guadalhorce
,
Sierra Sur y Campiña de Jaén
,
Los Alcornocales
,
Sierra Norte
,
Sierra de Hornachuelos
,
Despeñaperros
,
Sierra de Huétor
,
Sierra de Andújar
,
Sierra Mágina
,
Sierras Subbéticas
,
Sierras de Tejeda, Almijara y Alhama
,
Sierras de Cazorla, Segura y las Villas
,
Sierra de Aracena y Picos de Aroche
,
Sierra de las Nieves
,
Sierra Nevada
,
Cabo de Gata-Níjar
Further information
Invierno , Verano , Primavera , Otoño