La Senda Litoral - GR92 E12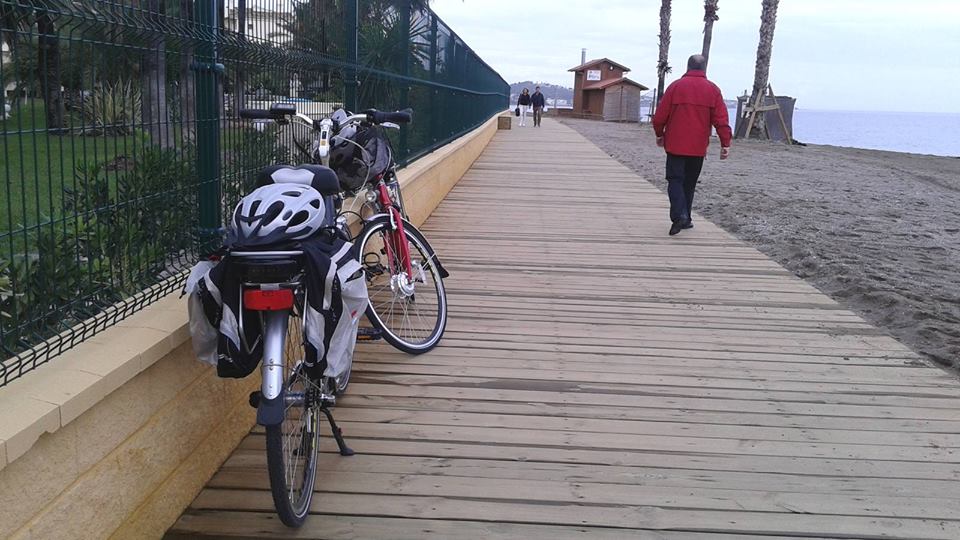 Read more
Read less
Coastal Path ("Senda Litoral") GR92 E12 offers an exceptional route passing 14 towns on the Costa del Sol, from the Balcón de Europa, in Nerja, to the Castle of the Duchess ofManilva, over 200 kilometres of coastline with the best weather in Europe.
The Coastal Path, passes through promenades and bike lanes, paths and boardwalks, beaches and cliffs, and natural sites between the towns that add a very special touch to the route: The Cantales de La Araña, the Peñon del Cuervo, Chullera Point, the Artola dunes, on the el delta of Río Vélez, the Guadalhorce river mouth or the rocky section between Calahonda and Calaburras, at Mijas.
Furthermore, among other historical resources the path includes the series of 42 "Almenara" watchtowers along the Malaga coast as well as the Phoenician archaeological Vélez Málagasite.
Type of Hiking Trail: Linear. Status of the Trail: Approved and signposted 2014. Total length: 212.91 km. Legs: 12 Legs. Accessibility: Suitable for walking and, except for some legs, horseback or mountain bike.
en
Read more
Itineraries
La Senda Litoral - GR92 E12 - 1
Difficulty Medium - Low
Length: 212.91km
Cycling percentage: 39.2%
A Nerja
B Vélez-Málaga
C Málaga
D Alhaurín de la Torre
E Benalmádena
F Mijas
G Parauta
H Marbella
I Estepona
J Playa de Punta Chullera
La Senda Litoral - GR92 E12 - 2
Difficulty Medium
Length: 18.0km
Cycling percentage: 0.0%
La Senda Litoral - GR92 E12 - 3
Difficulty High
Length: 39.8km
Cycling percentage: 90.0%
La Senda Litoral - GR92 E12 - 4
Difficulty Medium
Length: 12.3km
Cycling percentage: 0.0%
A Alhaurín de la Torre
B Benalmádena
C Torremolinos
La Senda Litoral - GR92 E12 - 5
Difficulty Medium
Length: 17.0km
Cycling percentage: 0.0%
La Senda Litoral - GR92 E12 - 6
Difficulty Medium
Length: 27.1km
Cycling percentage: 0.0%
La Senda Litoral - GR92 E12 - 7
Difficulty Medium - Low
Length: 12.8km
Cycling percentage: 0.0%
La Senda Litoral - GR92 E12 - 8
Difficulty Low
Length: 6.4km
Cycling percentage: 0.0%
A Manilva
B Castillo de la Duquesa. Museo Arqueológico Municipal de Manilva
C Playa de Punta Chullera
La Senda Litoral - GR92 E12 - 9
Difficulty Medium - Low
Length: 10.51km
Cycling percentage: 60.0%
A Nerja Cave
B Nerja
C Torrox
La Senda Litoral - GR92 E12 - 10
Difficulty Medium - Low
Length: 19.1km
Cycling percentage: 90.0%
La Senda Litoral - GR92 E12 - 11
Difficulty Medium
Length: 21.4km
Cycling percentage: 30.0%
A Vélez-Málaga
B Rincón de la Victoria
La Senda Litoral - GR92 E12 - 12
Difficulty Medium - Low
Length: 15.6km
Cycling percentage: 100.0%
A Rincón de la Victoria
B Málaga
La Senda Litoral - GR92 E12 - 13
Difficulty Medium - Low
Length: 12.9km
Cycling percentage: 100.0%
A Playa Misericordia
B Málaga
C Desembocadura del Guadalhorce
D Alhaurín de la Torre
Services and infrastructure
Target audiences
Lgbti, For families, I travel alone, young people, Friends, Couples
Segments
Nature, Culture, Sports
Season
Autumn, Spring, Winter