Soportújar, Granada's haunted village
19/11/2021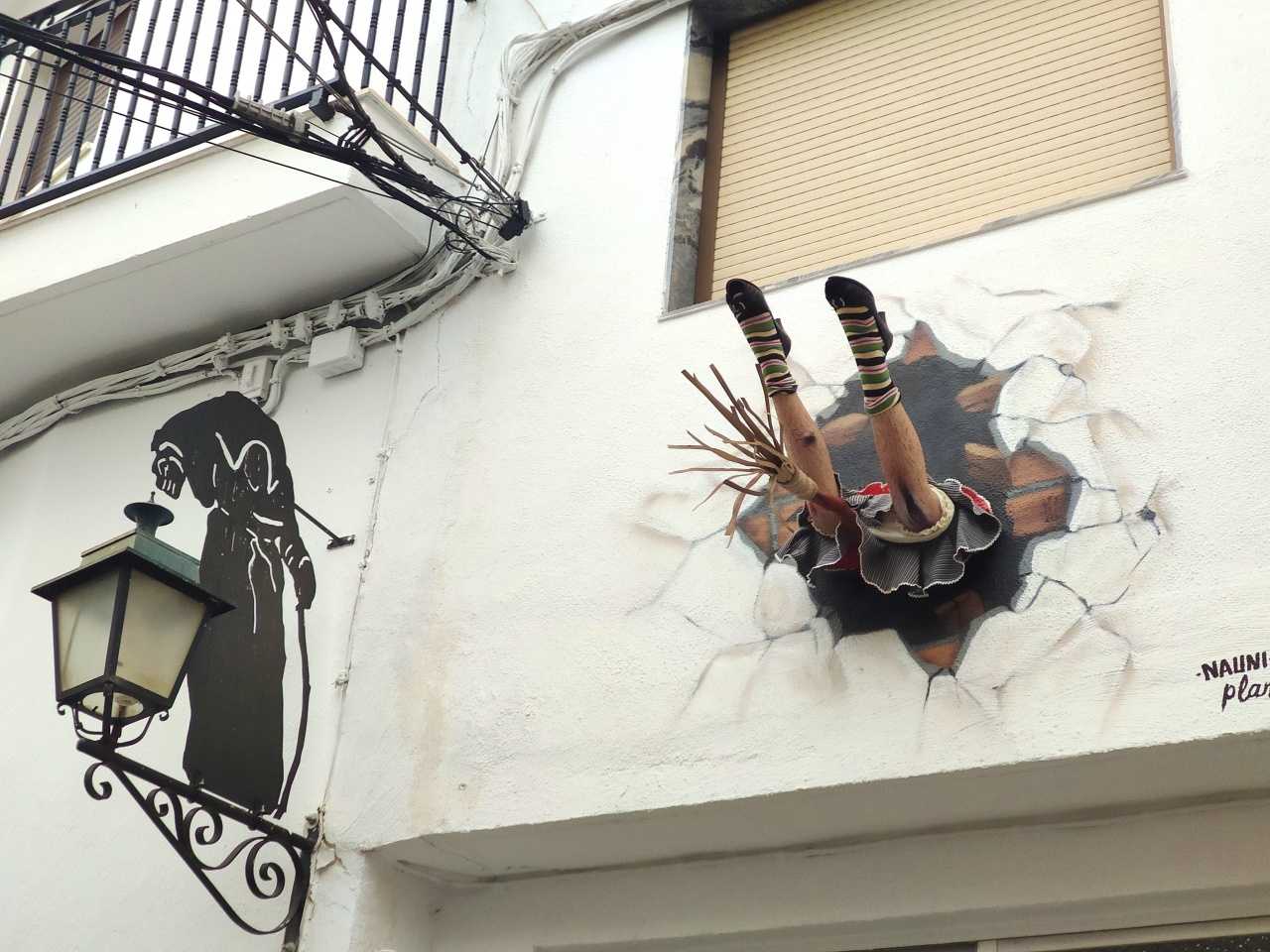 In the heart of the Alpujarra of Granada, between the folds of the mountains, a town emerges in the fog with strange and rhythmic songs in the background. They say its streets are haunted and few dare to go out at night. A night that belongs to the witches and their familiars. A place only for the most daring.
From a distance, Soportújar may seem like just another white village on the green and rugged Alpujarra in Granada. The whitewashed houses creep up the slope in a more or less orderly fashion, following the typical layout of the mountain villages that emerged in the Moorish times.
However, when we enter its narrow winding streets, we perceive something mystical and certainly dark. This feeling is encouraged by the ubiquitous references to witchcraft that we find all around.
The house numbers have witches on brooms next to them; the streetlamps feature black cats and flying brooms; there are murals painted on the walls; pots and bowls stacked in corners; esoteric shops and an endless number of sculptures of witches and their familiars!
Do you dare to enter this portal to another world? If so, first we'll help you with some practical tips.
How to get to Soportújar
Soportújar is in the heart of the Alpujarra of Granada, so the easiest thing to do is go by car. You'll drive along a typical mountain road full of interesting curves that offer wonderful viewpoints.
From Granada, we drive for an hour and a quarter, about 65 km. From Malaga the trip takes about two hours.
If you want to use public transport, the only option is bus company ALSA, which has some buses from Granada, but they are really scarce.
Where do the Soportújar witches come from?
I can imagine you are wondering where the tradition of the Soportújar witches comes from. Well, the origins are somewhat unclear.
Soportújar exists since Almohad times, and when the Moors were expelled in the 17th century, it had to be repopulated by Christians, who came from different parts of Spain. Many of them came from nearby places, such as Granada and Montilla, but apparently others came from Galicia, bringing with them the legends about "meigas" and other legendary creatures.
Where to eat in Soportújar
A good way to get over your fear is to taste the delicious dishes of the Alpujarra cuisine. These include tasty pork and lamb, as well as the Alpujarra dish, which usually includes hearty ingredients such as black pudding, chorizo, preserved pork loin, fried egg, potatoes, Serrano ham and peppers.
A good place to try these and other tasty morsels is Taberna Romero, a traditional place with a professional and friendly service, just up the road from the Town Hall and the Plaza de Abastos, which is the town centre.
Where to stay in Soportújar
If you are brave enough to spend the night in Soportújar, you may want to stay at Los Llanos, a wonderful country house lodge which has everything you could possible need: even a swimming pool, solarium and a magnificent garden. An ideal place to get away from it all, to enjoy the Alpujarra countryside and leave behind the fears of another world.
Exploring Soportújar
We arrived at Soportújar the day before Halloween. I can't think of a better time to visit a town that's infested with witches. And a dense fog covered it all, creating an even more mysterious atmosphere.
On such an important day, Soportújar was so crowded that we parked the car on the hill that leads to the town, after turning left at the junction that leaves the main mountain road that crosses beautiful towns such as Lanjarón and Órgiva.
The wicked witch Baba Yaga
We drove past the famous Witch's Eye Cave, where the sculpture of a witch is waiting for you and preparing a potion (no one knows whether it is curative or evil) and there is a crack through which, they say, you can get to other worlds.
Another witch, this one with blue eyes, a toothless mouth and thinning white hair, was waiting for us at the entrance to the village. Her name was Baba Yaga.
This witch is actually a supernatural being from Slavic mythology. In Russia they believe that she lives in the forests, in a wooden house resting on long bird legs. In the house she waits for lost and unsuspecting travellers to arrive looking for help. Sometimes she helps them and other times she gobbles them up. And she especially loves children!
Embrujo Viewpoint
We continue up the steep slope until we reach the street that leads to the Plaza de Abastos square, next to the Town Hall and the magnificent Church of Santa María la Mayor, a beautiful 16th century building that was built on top of a mosque (a common practice in the area after the Reconquest) and still preserves its original Mudejar look.
However, far from queuing to visit the church, the people – mostly dressed in witch's hats and costumes of other monsters and typical Halloweeny fantasy creatures – waiting patiently to take a photo next to the statues of witches stirring a cauldron.
From the viewpoint, the panoramic view is absolutely beautiful, with the mountains and the valley stretching out before you. A bit of reality to keep you grounded in this portal to another world.
The Dragon Fountain
After taking the obligatory photo, we continued our walk into the village and after just a few steps we stumbled upon the amazing Dragon Fountain.
As nobody was queuing here, I went to drink from the water, which, according to legend, has aphrodisiac properties and even enhances fertility. One of those legends that we all like to believe!
The Wishing Well
Any enchanted village worth its salt must have a wishing well. And in Soportújar we find it very close to the Dragon Fountain. When we arrived, we saw a boy leaning over the well. We do not know what he saw, but we peeked to discover if it was a portal to the underworld or if actually had a bottom.
Would you like to know what we discovered? Sorry, you'll have to come to Soportújar to find out for yourselves!
The narrowest street
A few metres from the wishing well there is an alley that is no more than 47 cm wide at its narrowest point. This street is one of the narrowest in Andalusia and has been named Zanjilla (Ditch).
The mural next to Zanjilla street shows an open book that gives us the following warning: "By day the witches you can see, but before dark you must flee". Creepy, isn't it? Do you think we heeded the warning?
The giant spider
No, we didn't. We didn't leave the village even though it was the evening. We were truly brave, or at least until we came face to face with a huge black spider with red spots. Its polka-dot skin did not fool us and we passed at a certain distance suspecting that its bite might contain a deadly poison.
The chocolate house
You can't miss another unforgettable icon of children's horror stories: the chocolate house.
It is located at the top of the village, just above Baba Yaga's house and the fountain. The chocolate house has an attractive and colourful facade, decorated with many sweets, cookies and chocolates. It is totally irresistible and I advise you not to let your children get too close! You've been warned!
Covens and other streets
When we go up to the viewpoint of the Coven (also known as the "era de los Aquelarres") we knew that we wouldn't be able to enjoy the magnificent views it offers on clear days, as the fog barely allowed us to see beyond 40 or 50 metres.
However, it is worth going up here to see the sculptures of witches, cats, skulls and cauldrons that accompany the views of the sea, the Órgiva valley and even the North African coast.
The stories say that witches met here for their covens. Whether the stories are true or not, from here you can feel the magic that envelops Soportújar. A village that makes us fear and dream in equal measure. A place where we feel like children again.
David Escribano - Travel Blog "Viajablog"

Soportújar, Granada's haunted village
Soportújar (Granada)