Climbing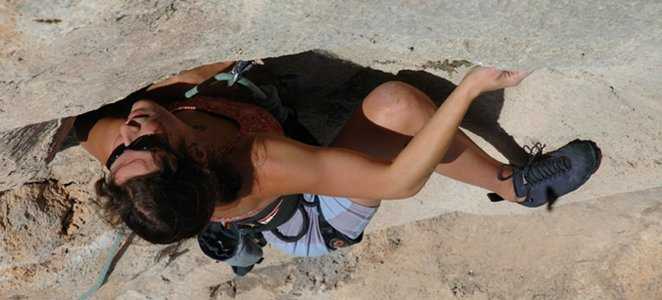 Climbing is the most popular branch of mountaineering in Andalusia. This is one of the Spanish Regions that has most promoted the sport.

Climbing is considered a dangerous sport and is done on steep mountains and rock walls. Climbers make use of hands and feet, along with physical and mental strength.

There are various types of climbing, such as free climbing, traditional climbing, indoor wall climbing, ice climbing, sport climbing, urban climbing, boulder... they all require a great deal of physical preparation and intense concentration, some natural ability, specific technique and a large dose of courage.
Where to go climbing
There are ideal places for climbing to be found throughout the Region of Andalusia, according to the chosen discipline.

There are also indoor climbing walls available. They are known as "rocódromos" in Spanish and are ideal to get started in the world of climbing, or to practise when outdoor weather conditions are unsuitable.

Nevertheless, Andalusia has a wealth of outdoor spots for climbing. Teba Canyon and El Moral Cove in Malaga province, the San Bartolomé Mountains, in Cadiz, and different sites in the Sierra Nevada Mountains are just some of the most ideal settings for this sport. These are just a few examples offered by Andalusia's rich orography for all kinds of open-air sports.
Precautions and recommendations
Given the risks involved in this sport, climbing requires complete control in each and every movement.

It is vital to have the required safety equipment, such as helmet, ropes, harness, etc. These make your position and progression secure.

Of course, before starting a dangerous climb up vertical walls you should train to gain the necessary knowledge and technique, and to maintain good physical condition.
Equipment
The equipment required for climbing depends on the chosen discipline.
One thing they all have in common is use of a helmet. This combines with the rest of the equipment required to constitute adequate safety material.
Climbing requires the use of harness, slings, ropes and karabiners for safety manoeuvres, magnesium powder for sweat on the hands, rockshoes (light, flexible, with good grip), and security systems to stop falls.
General information
Ideal for
Jóvenes , Viajo Solo
Perfect locations
Sierra Norte
,
Alpujarra Almeriense/Río Nacimiento
,
Altiplano de Baza, Huescar y Castril
,
Antequera y Entorno
,
Campo de Gibraltar/Los Alcornocales
,
Alto Guadiato
,
Axarquía/Costa del Sol Oriental
,
Andévalo y Parque Minero
,
Córdoba y la Zona del Guadalquivir
,
Jerez de la Frontera
,
Costa de la Luz (Cádiz)
,
Costa de la Luz (Huelva)
,
La Alpujarra
,
Costa del Sol Occidental
,
La Campiña (Sevilla)
,
Costa Tropical y Valle de Lecrín
,
Pueblos Blancos/Sierra de Grazalema
,
Desierto de Tabernas
,
Los Pedroches
,
El Aljarafe
,
Sierra Alhamilla
,
Hoya de Guadix y Marquesado
,
Serranía de Ronda/Valle del Genal
,
Sierra Sur y Campiña de Jaén
,
La Vega y la Campana
,
Sierra de los Filabres
,
Valle del Guadalhorce
,
Vía Verde de la Sierra
,
El Poniente Granadino
,
Jaén y Entorno
,
Sierra de Castril
,
Sierra de Baza
,
Los Alcornocales
,
Bahía de Cádiz
,
Sierra de Hornachuelos
,
Sierra María-Los Vélez
,
Del Estrecho
,
Montes de Málaga
,
Despeñaperros
,
Sierra de Cardeña y Montoro
,
Sierra de Huétor
,
Sierra de Andújar
,
Sierra Mágina
,
Sierras Subbéticas
,
Sierras de Tejeda, Almijara y Alhama
,
Sierras de Cazorla, Segura y las Villas
,
Sierra de Aracena y Picos de Aroche
,
Sierra de las Nieves
,
Sierra Nevada
,
Cabo de Gata-Níjar
Further information
Otoño , Primavera , Verano , Invierno
Book your experience:
MON TUE WED THUR FRI SAT SUN
Distance to the town (km)