Hiking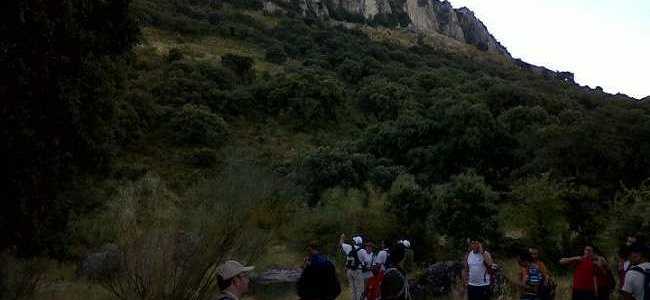 Hiking or trekking
Hiking or trekking is an environmentally sound sport where you can enjoy the countryside, with the chance to practise a certain level of map reading.
One of the sport's main objectives is prolonged physical activity that is not technically difficult, in contact with nature. Besides being a healthy habit, it lets you go on fun excursions in extremely beautiful areas of interest to tourists.
Hiking lets you enjoy fun walks on a range of routes signposted by the ERA (European Ramblers Association), classified according to duration and difficulty: Long-distance, Short-distance, Local trail or Urban trail.
Where to go hiking
The wide variety of landscapes to be found in Andalusia make it the ideal setting for a host of hiking routes.
There are many tracks and trails to be found throughout the Region of Andalusia, ever more popular with tourists who want to enjoy the area's flora and fauna.
Some of the most outstanding routes in Andalusia are: Pico Torrecilla and Puerto de los Pilones in the Sierra de las Nieves Mountains, both in Malaga province, as well as outings in the Sierra de Grazalema Nature Reserve (Cadiz province) and trails in the Sierra del Segura Mountains, Cazorla Nature Reserve (Jaén) and Sierra Nevada, in Granada.
Precautions and recommendations
The easy nature of this activity means that there are only a few precautions to be taken.
We would recommend you go with at least one other person, and always get as much information as possible on the place to be visited. It is also a good idea to check the weather forecast – changes in the weather can make the walk difficult or even dangerous.
Although there are water fountains and places to drink on most organised routes, you should always carry some drinking water with you.
Necessary equipment
You do not need very complicated or technical equipment for hiking. You need comfortable clothing above all, with hiking boots and preferably long trousers to prevent cuts and scratches caused by vegetation.
According to the duration of the route, you should take food and provisions, as well as energy drinks, if necessary. You can also use a walking pole to provide extra support.
While it is not advisable to carry excess weight while you walk, it is a good idea to take a rucksack with practical items such as first aid kit, torch and survival kit.
General information
Ideal for
Viajo Solo , Parejas , Negocio , Mayores , Lgbti , Jóvenes , Familiar , Amigos
Perfect locations
Sierra de Baza
,
Parque Metropolitano Marisma de Los Toruños y Pinar de la Algaida
,
Doñana
,
Altiplano de Baza, Huescar y Castril
,
Axarquía/Costa del Sol Oriental
,
Alto Guadiato
,
Almería y su Entorno
,
Andévalo y Parque Minero
,
Antequera y Entorno
,
La Vega del Guadalquivir
,
Alpujarra Almeriense/Río Nacimiento
,
Cascada de la Cimbarra
,
Córdoba y la Zona del Guadalquivir
,
La Alpujarra
,
Córdoba y su Entorno
,
Costa de Almería
,
El Aljarafe
,
Costa de la Luz (Cádiz)
,
La Campiña (Sevilla)
,
Costa de la Luz (Huelva)
,
Hoya de Guadix y Marquesado
,
Costa del Sol Occidental
,
Sevilla y Entorno
,
Costa Tropical y Valle de Lecrín
,
La Marisma/Bajo Guadalquivir
,
Desierto de Tabernas
,
Jerez de la Frontera
,
Los Pedroches
,
Pueblos Blancos/Sierra de Grazalema
,
Sierra Alhamilla
,
Valle del Guadalhorce
,
Sierra Sur y Campiña de Jaén
,
Serranía de Ronda/Valle del Genal
,
El Poniente Granadino
,
Vía Verde de la Sierra
,
La Vega y la Campana
,
Jaén y Entorno
,
La Campiña (Córdoba)
,
Sierra de los Filabres
,
Bahía de Cádiz
,
Sierra de Castril
,
Sierra Norte
,
Sierra de Hornachuelos
,
Sierra María-Los Vélez
,
Del Estrecho
,
Montes de Málaga
,
Despeñaperros
,
Sierra de Cardeña y Montoro
,
Sierra Nevada
,
Sierra de Huétor
,
Sierra de Andújar
,
Sierras Subbéticas
,
Sierra Mágina
,
Sierras de Tejeda, Almijara y Alhama
,
Sierra de Aracena y Picos de Aroche
,
Sierras de Cazorla, Segura y las Villas
,
Sierra de las Nieves
,
Cabo de Gata-Níjar
Further information
Otoño , Primavera , Invierno , Verano