Alpujarra Trail - GR 142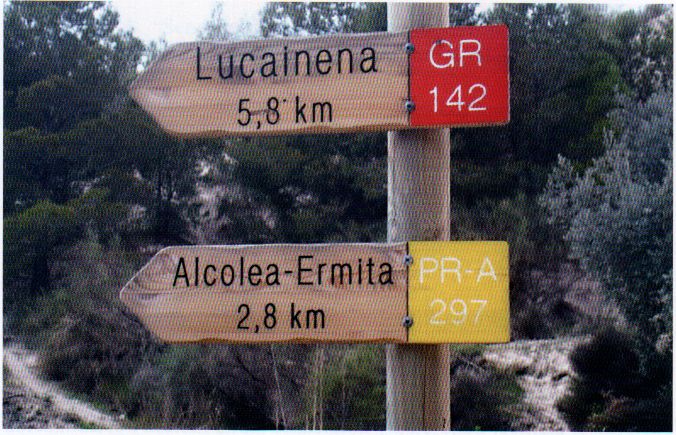 Read more
Read less
The Alpujarra Trail – GR 142 is impressive due to its great contrasts. Its path runs through the provinces of Granada and Almeriacrossing the south face of the Sierra Nevada, passing through many villages of Alpujarra with admirable popular architecture and orchards that conserve the traditional farm work, discovering the friendliness and authenticity of its people, history, culture, tradition, crafts and delicious gastronomy.
It starts (or ends, depending on the direction you are going) in Lanjarón and continues through Órgiva. Ascending from there along the Guadalfeo river, the path crosses 'carihuelas' - winding cobbled paths - connecting charming villages such as la Tahá, Busquístar, Notáez, Cástaras, Nieles and Lobras. It runs through numerous fountains (some of them medicinal) and water mills (the Cádiar mill still being in operation).
From Cádiar, following towards the east, it jumps to another slope, the Adra River slope that takes its waters more directly to the Mediterranean sea than the Guadalfeo. Among watercourses covered with vegetation, it passes through outstanding towns like Jorairátar, Darrícal, Lucainena and Alcolea.
It enters the Andarax valley, amid fountains and vineyards, by Láujar de Andarax and the villages of Benecid, Almócita and Padules. And from Canjáyar, by a beautiful ascent of its, it reaches Ohanes and crosses the mountains to the northwest towards Abrucena and ends in Fiñana.
Type of Trail: Linear. Trail Status: Approved and Signposted. Total Length: 144 km. Sections: 13 Accessibility: Suitable for walking, horseback and mountain bike. Map Information: I.G.N./S.G.E. 1:50.000 1042 Lanjaron, 1043 Berna, 1028 Aldeire. Maps used in the guide: Editorial Penibética.
en
Read more
Itineraries
Alpujarra Trail - GR 142 - 1
Difficulty Medium - Low
A Mecina Fondales
B Ferreirola
C Busquístar
Alpujarra Trail - GR 142 - 2
Alpujarra Trail - GR 142 - 3
Difficulty Medium
A Órgiva
B Mecina Fondales
Alpujarra Trail - GR 142 - 4
Alpujarra Trail - GR 142 - 5
Difficulty Medium - Low
A Busquístar
B Almegíjar
C Cástaras
Alpujarra Trail - GR 142 - 6
Difficulty Medium - High
A Cástaras
B Lobras
C Cádiar
Alpujarra Trail - GR 142 - 7
Alpujarra Trail - GR 142 - 8
Alpujarra Trail - GR 142 - 9
Difficulty Medium
A Láujar de Andarax
B Fondón
C Almócita
D Padules
Alpujarra Trail - GR 142 - 10
Difficulty Medium
A Padules
B Canjáyar
C Ohanes
Alpujarra Trail - GR 142 - 11
Alpujarra Trail - GR 142 - 12
Alpujarra Trail - GR 142 - 13
Difficulty Low
A Alcolea
B Láujar de Andarax
C Laujar de Andarax
Services and infrastructure
Target audiences
young people, Couples, Lgbti, For families, Friends, I travel alone
Season
Winter, Spring, Summer, Autumn