Montilla-Moriles Wine Route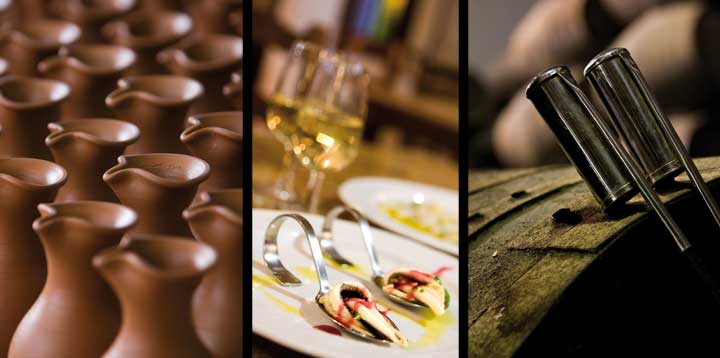 Read more
Read less
The Montilla-Moriles Wine Route encompasses aromas, flavours, silence… and a splendid blend of varied landscapes where undulating chalky hills are covered by green vineyards and silvery olive groves. Wine presses, wineries and picturesque white villages dot this landscape in the south of Cordoba province, the heart of Andalusia.
To the west of the Sierras Subbéticas mountains, Pedro Ximénez grapes create these fine wines through the magical, mysterious and patient "criaderas and soleras" method in oak barrels that give them their characteristic quality.
The presses, at foot of the vineyards, produce aromatic wine must, smelling of fruit, yeast, breadcrumbs. The streets of the local towns herald in the autumn with the smell of new wine. It is in the winery, in the silence of the "cathedral", in the tenuous light, the rough wood of the barrels,… where wine becomes truly great.
Close your eyes and try to imagine these lands which smell of bread, olive oil and… wine. The Montilla-Moriles Wine Route is a land rich in culture and leisure,… of experiences centred on a cultural, historical, artistic and gastronomic heritage without comparison.
en
Read more
Itineraries
Montilla-Moriles Wine Route - 1
A Bodegas Campos
B Costa Sur
C Don Quijote
D La Casona
E Las Camachas
F Las Tinajas
G Puerta Sevilla
Montilla-Moriles Wine Route - 2
A Córdoba
B Fernán-Núñez
C Montemayor
D Rambla, La
E Montilla
F Aguilar de la Frontera
G Moriles
H Lucena
I Puente Genil
Montilla-Moriles Wine Route - 3
A Bodegas Lagar Blanco
B Lagar Cañada Navarro
C Lagar la Primilla
D Lagar los Raigones
Montilla-Moriles Wine Route - 4
A Taberna Bolero
B Casa Pepe de la Judería
C Casa Rubio
D Taberna La Viuda
E Taberna Salinas
F Bodega Restaurante Sociedad Plateros María Auxiliadora
G Taberna Los Lagares
H Taberna La Chiva
Montilla-Moriles Wine Route - 5
A Bodegas Alvear
B Bodegas Cabriñana
C Bodegas Cruz Conde
D Bodegas Pérez Barquero
E Bodegas Vinos de Anora
F Cooperativa Agrícola La Unión
G Bodegas La Aurora
Montilla-Moriles Wine Route - 6
A Durán Vinos y Barriles
B Ceramics Museum in La Rambla
C Centro Enogastronómico Olivino
D Envidarte, Centro de Arte Contemporáneo y Vino
E Villa Romana de Fuente Álamo
F Centro de Interpretación del Paisaje y La Historia de Aguilar de la Frontera (CIPHAF)
G Tonelería del Sur
H Tonelería Cabello Márquez
I Obrador y Museo del Mosto Castillo de Moriles
Montilla-Moriles Wine Route - 7
A Bodegas A. Doblas Martos
B Bodegas Lagar El Monte
C Bodegas Delgado
D Moriles 47 - Bodegas Aragón
Montilla-Moriles Wine Route
Córdoba
,
Castro del Río
,
Fernán-Núñez
,
Monturque
,
Cabra
,
Montilla
,
Baena
,
Lucena
,
Montemayor
,
Puente Genil
,
Moriles
,
Espejo
,
Rambla, La
,
Santaella
,
Doña Mencía
,
Aguilar de la Frontera
Calle Capitán Alonso de Vargas, 3, 14550
Contact information
Copied to clipboard
Social networks
Services and infrastructure
Target audiences
deal, young people, Lgbti, Couples, Seniors, Professional, Friends, For families, I travel alone
Segments
Leisure and fun, Gastronomy, Nature, Culture, Meetings and Congresses
Season
Autumn, Spring, Winter, Summer